Back to products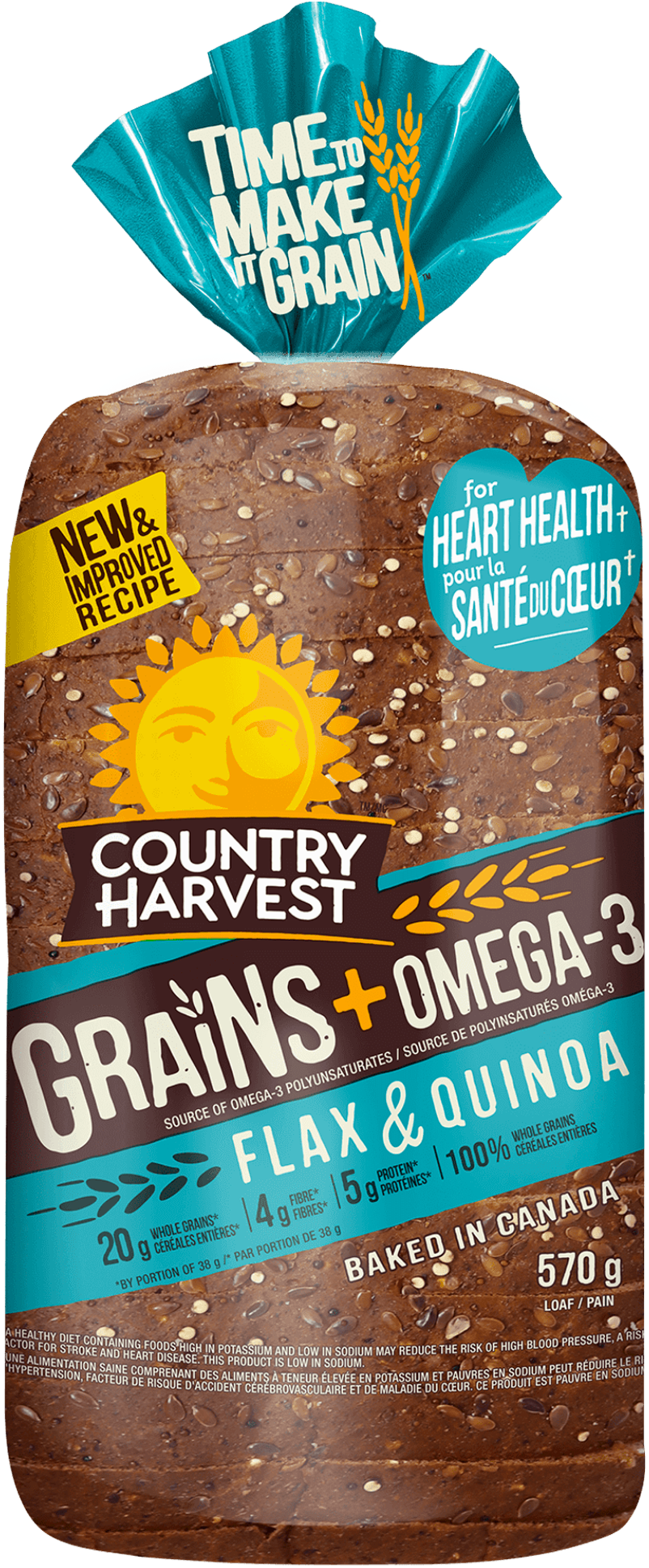 Nutrition
Nutrition Facts
Per 2 slices (80 g)
Amount
% Daily Value*
Calories 210
Fat 4.5 g
6 %
Saturated 0.5 g
3 %
+Trans 0 g
Polyunsaturated 2.5 g
Omega-6 1 g
Omega-3 1.5 g
Monounsaturated 1 g
Carbohydrate 36 g
Fibre 6 g
21 %
Soluble Fibre 2 g
Insoluble Fibre 4 g
Sugars 5 g
5 %
Protein 10 g
Cholesterol 0 mg
Sodium 300 mg
13 %
Potassium 225 mg
5 %
Calcium 75 mg
6 %
Iron 2.25 mg
13 %
Thiamine 0.25 mg
21 %
Riboflavin 0.125 mg
10 %
Niacin 5 mg
31 %
Vitamin B6 0.15 mg
9 %
Folate 35 μg DFE
9 %
Pantothenate 0.6 mg
12 %
Phosphorous 200 mg
16 %
Magnesium 90 mg
21 %
Zinc 2 mg
18 %
Selenium 24 μg
44 %
Copper 0.24 mg
27 %
Manganese 1.5 mg
65 %
Molybdenum 32 μg
71 %
*The % Daily Value (DV) tells you how much a nutrient in a serving of food contributes to a daily diet. 2,000 calories a day is used for general nutrition advice.
Ingredients
WHOLE GRAIN WHEAT FLOUR, WATER, SUGAR, FLAX SEEDS, WHEAT GLUTEN*, YEAST*, QUINOA, GROUND FLAX SEEDS, SALT, VEGETABLE OIL, CALCIUM PROPIONATE, SORBIC ACID, SOY LECITHIN. TOPPING: FLAX SEEDS, QUINOA, KANIWA. *ORDER MAY VARY.
CONTAINS: WHEAT, SOY.
MAY CONTAIN: SESAME SEEDS.